BIM stands for Building Information Modeling and is a phrase used globally to describe a 3D-model based process to enable architecture, engineering, and construction (AEC) professionals to conceptualize, design, and build with intelligent, data-driven processes.
What is BIM Level 2?
BIM Level 2 was a concept first introduced by the UK Government in May 2011 as part of an overall strategy to digitize the construction industry and reduce the cost of public assets.
The strategy introduced the idea of BIM levels in order to determine where organizations and the industry were in terms of their BIM maturity and implementation.
The below graphic shows the different levels of BIM maturity: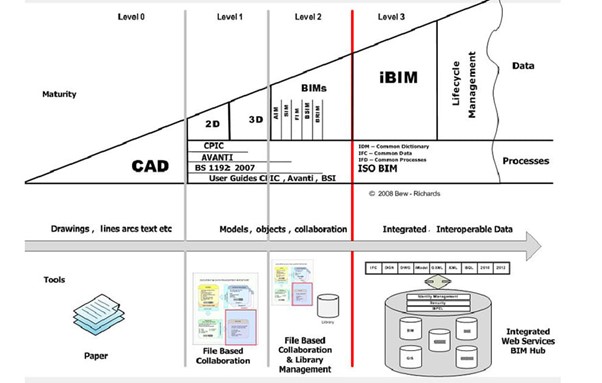 BIM Level 2 Deliverables
Working within a BIM Level 2 process, the organization must deliver against several key elements to deliver the project. These include:
• Adherence to an Employers Information Requirements (EIR)
• Creation and execution of a BIM Execution Plan (BEP)
• Work within a Common Data Environment (CDE)
• Follow ISO19650 standards
• Use appropriate Classifications (e.g. Uniclass 2015)
• Use Intelligent 3D libraries
• Use Intelligent 3D models
• Use 3D based collaboration
• Deliver COBie
BIM Level 2 Mandates
In the UK, all government-funded projects have mandated BIM Level 2. This means that organizations that are involved in government-funded projects must comply with the BIM Level 2 process.
Other Countries
BIM has been mandated in other countries – however, each country has its own set of specific requirements and standards. In 2019, however, the first international standard for BIM project execution was published, known as ISO19650.
Did this answer your question?
Thanks for your feedback!